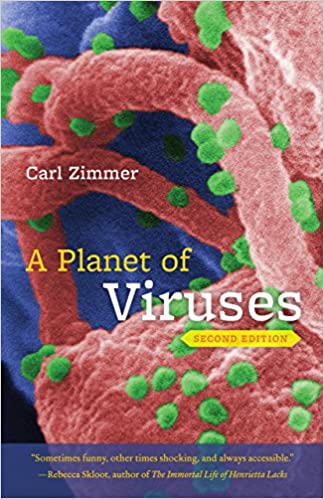 Weeks 2 through 6 will use A Planet of Viruses written by Carl Zimmer as the spine. Other weeks will have assigned articles at the same reading level.
When we think about life, we think about elephants, redwood trees, and people. Most of us do not think about organisms so small we cannot even see them, and we certainly do not think about those particle called viruses that are right on the border of living and non-living. Each Week there will be a presentation about the science followed by discussions about topics from the reading.
If someone is old enough to read the book they are old enough for this course.
Meets Every Tuesday, 1/19 – 3/23 for 10-weeks at 3 pm PST
January 19, 26
February 2, 9, 16, 23
March 2, 9, 16, 23
Sessions will be taped for those who are unable to attend.
Weekly Topics
Week 1 –The Biochemistry of Viruses
Week 2 – Introduction from A Planet of Viruses
Week 3 – The Viral Causes of Colds & the Flu
Week 4 – Cancer & Viruses
Week 5 – Bacteriophages – The Enemy of Our Enemy
Week 6 – The Retroviruses in Us
Week 7 – HIV and the Science of Antiretroviral Therapy
Week 8 – More about Zoonotic Diseases
Week 9 – Pandemics Past & Present (Smallpox & Coronavirus will be covered this week)
Week 10 – Guest Presenter