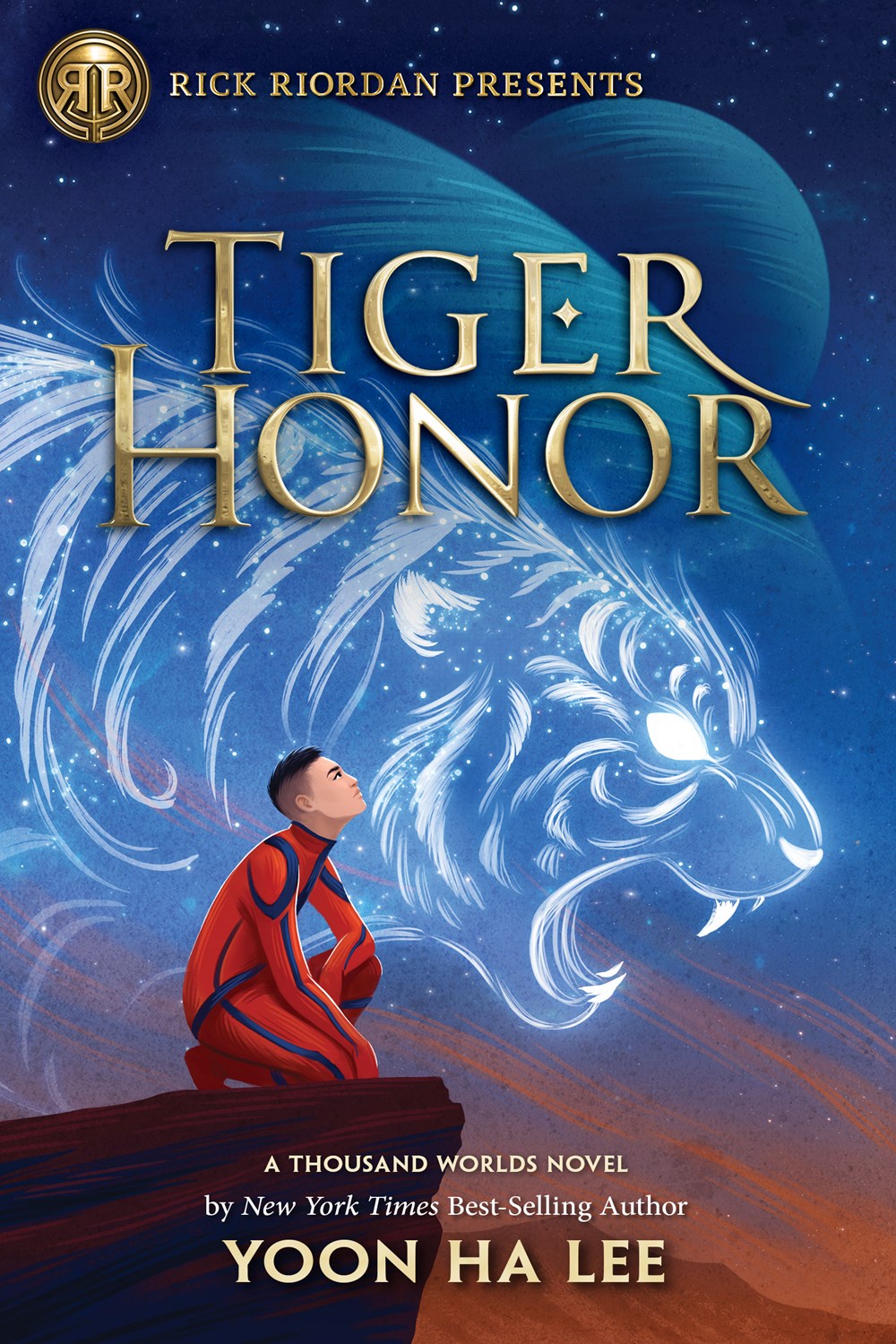 Tiger Honor by Yoon Ha Lee
A middle grade science fiction + space opera story in a Korean-inspired setting, featuring the first nonbinary protagonist in the Rick Riordan Presents imprint!

Sebin, a young tiger spirit from the Juhwang Clan, wants nothing more than to join the Thousand World Space Forces and, like their Uncle Hwan, captain a battle cruiser someday. But when Sebin's acceptance letter finally arrives, it's accompanied by the shocking news that Hwan has been declared a traitor. Apparently, the captain abandoned his duty to steal a magical artifact, the Dragon Pearl, and his whereabouts are still unknown. Sebin hopes to help clear their hero's name and restore honour to the clan.

Nothing goes according to plan, however. As soon as Sebin arrives for orientation, they are met by a special investigator named Yi and his assistant, a girl named Min. Yi informs Sebin that they must immediately report to the ship Haetae and await further instructions. Sebin finds this highly unusual, but soon all protocol is forgotten when there's an explosion on the ship, the crew is knocked out, and the communication system goes down. It's up to Sebin, three other cadets, and Yi and Min to determine who is sabotaging the battlecruiser. When Sebin is suddenly accused of collaborating with the enemy, the cadet realizes that Min is the most dangerous foe of all... (Goodreads synopsis)

Class Overview
Tiger Honor, by Yoon Ha Lee, is a science fiction space opera book set in the Thousand Worlds universe and is a semi-sequel to Dragon Pearl (September 2021 Tween Book Club). This book features a nonbinary / gender neutral protagonist, Sebin, who is a Tiger and who struggles with balancing loyalty to their family and respect for themselves and their own values. (Sebin is in fact the first nonbinary protagonist under the Rick Riordan presents imprint!)

This will be a casual summer get-together class for people who would like to read a book with others and share in weekly meetings for a relaxed social experience.  

Note:
This book is set in the same universe as Dragon Pearl and follows the events in that book. It is recommended but not necessary to read Dragon Pearl first.
You can purchase the self-paced reading guide for Dragon Pearl here.

Ages:
10-13+



Content Notes:
This book is generally age-appropriate for middle-grade/tween readers.

Protagonist deals with low self-esteem and unhealthy family dynamics that may be seen as abusive or neglectful by some people. Cultural dynamics may be interpreted in different ways by different readers. Some age-appropriate scary situations, emotional conflict, and coming-of-age challenges.

There is NOT misgendering or undermining of Sebin's nonbinary/gender neutral identity. This universe exemplifies inclusion and diversity of nonbinary genders and queer relationships, along with support for disability - all seen as natural and the social default.

Dates:
August 11 - 25, 2022


Live Meeting Information:
Thursdays at 2pm Eastern / 1pm Central / 12pm Mountain / 11am Pacific Time



Supplies:
A copy of the book Tiger Honor by Yoon Ha Lee (ISBN13: 9781368055543). Borrowed, used, and audio formats will work.
More information on different editions here.
Zoom account for live sessions.
Microphone and camera for live session are optional.
A Discord account is recommended