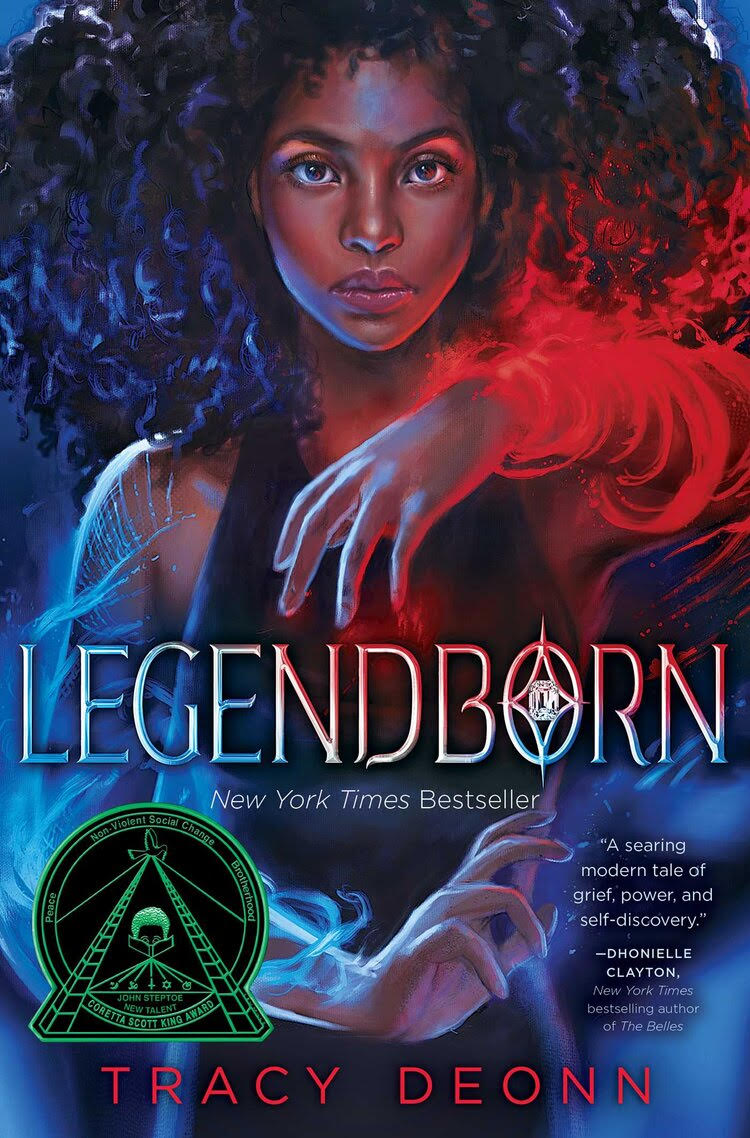 Filled with mystery and an intriguingly rich magic system, Tracy Deonn's YA contemporary fantasy Legendborn offers the dark allure of City of Bones with a modern-day twist on a classic legend and a lot of Southern Black Girl Magic.
After her mother dies in an accident, sixteen-year-old Bree Matthews wants nothing to do with her family memories or childhood home. A residential program for bright high schoolers at UNC–Chapel Hill seems like the perfect escape—until Bree witnesses a magical attack her very first night on campus.
A flying demon feeding on human energies.
A secret society of so called "Legendborn" students that hunt the creatures down.
And a mysterious teenage mage who calls himself a "Merlin" and who attempts—and fails—to wipe Bree's memory of everything she saw.
The mage's failure unlocks Bree's own unique magic and a buried memory with a hidden connection: the night her mother died, another Merlin was at the hospital. Now that Bree knows there's more to her mother's death than what's on the police report, she'll do whatever it takes to find out the truth, even if that means infiltrating the Legendborn as one of their initiates.
She recruits Nick, a self-exiled Legendborn with his own grudge against the group, and their reluctant partnership pulls them deeper into the society's secrets—and closer to each other. But when the Legendborn reveal themselves as the descendants of King Arthur's knights and explain that a magical war is coming, Bree has to decide how far she'll go for the truth and whether she should use her magic to take the society down—or join the fight. (Author website)
How Live Book Club Classes Work
Participation in the live book club includes access to a set of resources and activities as well as interactive components.
Participants receive
A suggested reading schedule
PDF reading guides with comprehension questions
Vocabulary/reading activities
Discussion board posts in our online classroom
Writing/multimodal project prompts related to the reading
An invitation to a live discussion
A recording of the summary of the live discussion

An optional feedback add-on for the final paper/project

Rubrics for at-home feedback
Families are welcome to use as much or as little of the suggested resources and activities as they'd like to fit their interest and schedules.
Ages:
13-18
Content Note:
Racism, loss of family member, trauma, past instance of rape (not graphic detail), discussions of historical slavery and oppression, bigotry against groups of people, microaggressions. These difficult topics are presented in an age-appropriate style and are included to portray an accurate representation of lived experiences of people like the main character, written responsibly by the author who shares lived experiences with the protagonist.
Dates:
October 1-31, 2022
Live Meeting:
October 28, 2022
1:00 PM Eastern Time / 12:00 PM Central Time / 11:00 AM Mountain Time / 10:00 AM Pacific Time
Those who cannot attend the live session will receive a recorded summary.
Supplies:
A copy of the book Legendborn by Tracy Deonn (ISBN: 9781398501874). Borrowed, used, and audio formats will work.
Zoom account for live session
Microphone and camera for live session (optional)
PDF reader
Access to printer recommended