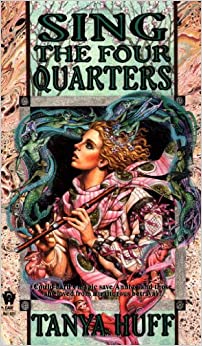 A unique and creative fantasy world by prolific Canadian author
Tanya Huff!
The Bards of Shkoder hold the country together. They, and the elemental spirits they Sing – earth, air, fire, and water - bring the news of the sea to the mountains, news of the mountains to the plains. They give their people, from peasant to king, a song in common.
Annice is a rare talent, able to Sing all four quarters, but her brother, the newly enthroned King Theron, sees her request to study at the Bardic Hall as a betrayal. To his surprise, Annice accepts his conditions, renouncing her royal blood and swearing to remain childless so as not to jeopardize the line of succession. She walks away from political responsibilities, royal privilege and her family.       
Ten years later, Annice has become the Princess Bard and her real life is about to become the exact opposite of the overwrought ballad her fellow students at the Bardic Hall wrote about her. Now, she's on the run from the Royal Guards with the Duc of Ohrid, the father of her unborn child, both of them guilty of treason – one of them unjustly accused. To save the Duc's life, they'll have to cross the country, manage to keep from strangling each other, and defeat an enemy too damaged for even a Bard's song to reach. (Publisher synopsis)
How Live Book Club Classes Work
Participation in the live book club includes access to a set of resources and activities as well as interactive components.
Participants receive
A suggested reading schedule
PDF reading guides with comprehension questions
Vocabulary/reading activities
Discussion board posts in our online classroom
Writing/multimodal project prompts related to the reading
An invitation to a live discussion
A recording of the summary of the live discussion

An optional feedback add-on for the final paper/project

Rubrics for at-home feedback
Families are welcome to use as much or as little of the suggested resources and activities as they'd like to fit their interest and schedules.
Ages:
13-18
Content Note:
Acknowledgement of sexual activity (non-explicit, "it happened"), family conflict, age-appropriate descriptions of pregnancy symptoms, non-graphic description of childbirth, queer representation, light romance, relationship diversity, disability representation.
Dates:
September 1-30, 2022


Live Meeting:
September 30, 2022
1:00 PM Eastern Time / 12:00 PM Central Time / 11:00 AM Mountain Time / 10:00 AM Pacific Time
Those who cannot attend the live session will receive a recorded summary.


Supplies:
A copy of the book Sing the Four Quarters by Tanya Huff (ISBN: 9781625671547). Borrowed, used, and audio formats will work. See here for more edition information
Zoom account for live session
Microphone and camera for live session (optional)
PDF reader
Access to printer recommended