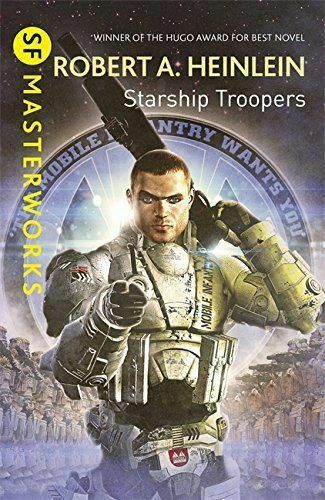 Starship Troopers, by Robert Heinlein
Starship Troopers, by Robert Heinlein, is a landmark work in science fiction that was published in 1959. Winner of the 1960 Hugo Award for best novel, this highly influential and controversial work continues to influence and inspire tributes and debates about militarism, masculinity, social class, citizenship and warfare. It is notable for being a rare work of its time and genre to feature a non-white protagonist (Hispanic man) and to show women in active military service in large numbers.
Like Shakespeare's and Tolkien's works, Heinlein's writings have greatly influenced and inspired many works within and outside its genre, despite being written in a different time. Books and video games about space marines, space exploration, science fiction with aliens, and many other stories have been inspired directly and indirectly by this work.
This will be a challenging read for many because it was written in a different mind in response to wars and social issues of the time. To assist, the reading guide and discussions will provide ample historical and social context as well as connections to subsequent works that were inspired by this book. Readers are strongly encouraged to read this book as an exercise in critical thinking and academic engagement, especially as some of the material may be offensive or otherwise difficult to personally connect with.
Note that the movie by the same name is NOT comparable to the book in any way (it was disowned by Heinlein's widow when it was produced). We will discuss some of the process that led to the film diverging from the book in story and themes as part of our critical engagement.
This month's book is best paired with the next month's book, Valor's Choice by Tanya Huff, as it is a more current work written with contemporary audiences in mind. These two works will be compared and contrasted to assist readers in approaching difficult works with a scholarly eye to recognize tropes, foundational concepts, and artistic inspiration.
Please contact the instructor with any concerns.
This class is a self-paced version of a book from the 2021-2022 academic year SEA Online Classes Tween Book Club.
Each book club grants access to the following elements:
* A suggested reading schedule
* A PDF reading guide with comprehension questions
* Vocabulary activities
* Writing/multimodal project prompts related to the reading
If you would also like to sign up for feedback on a project or a chance to discuss the reading, please sign up here. For more tutoring/coaching options, please send a request here.
Ages:
13-18
Content Note:
Story is about space marines fighting a war against arachnid aliens for a juvenile audience in the 1950s. Coarse language, sexism and racism will be in the book as part of the context of the time of the author and in keeping with the style of the story. Many topics like citizenship, national service, militarism, masculinity, and violent patriotism will be presented, sometimes in a positive light.