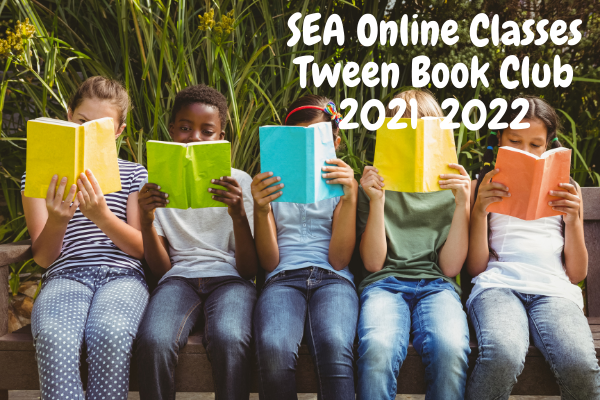 Join the 2021-2022 Tween Book Club!
Bundle All 9 Books
Want to join us for all nine books for the 2021-2022 SEA Tween Book Club? Bundle and save!
Feedback Add-Ons can be purchased individually by contacting the teacher.
How Live Book Club Classes Work
Participation in the live book club includes access to a set of resources and activities as well as interactive components.
Participants receive
A suggested reading schedule
PDF reading guides with comprehension questions
Vocabulary/reading activities
Discussion board posts in our online classroom
Writing/multimodal project prompts related to the reading
An invitation to a live discussion
A recording of the summary of the live discussion

An optional feedback add-on for the final paper/project

Rubrics for at-home feedback
Families are welcome to use as much or as little of the suggested resources and activities as they'd like to fit their interest and schedules.
Ages:
9-12
Content Note:
Please check each individual book to make sure it's a good fit for your family before enrolling in the Bundle. Books are also available individually.
Supplies:
A copy of each of the books. Borrowed, used, and audio formats will work.
Zoom account for live session
Microphone and camera for live session are optional.
PDF reader
Access to printer recommended
A Discord account is recommended
Reading Schedule:
September 2021: Dragon Pearl by Yoon Ha Lee
October 2021: Wizard's Guide to Defensive Baking by T. Kingfisher
November 2021: Spark by Sarah Beth Durst
December 2021: Ghost by Jason Reynolds
January 2022: Ikenga by Nnedi Okorafor
February 2022: The Eagle Huntress by Aisholpan Nurgaiv
March 2022: The Princess Bride by William Goldman
April 2022: Aru Shah and the End of Time by Roshani Chokshi
May 2022: A Wizard of Earthsea by Ursula K. Le Guin