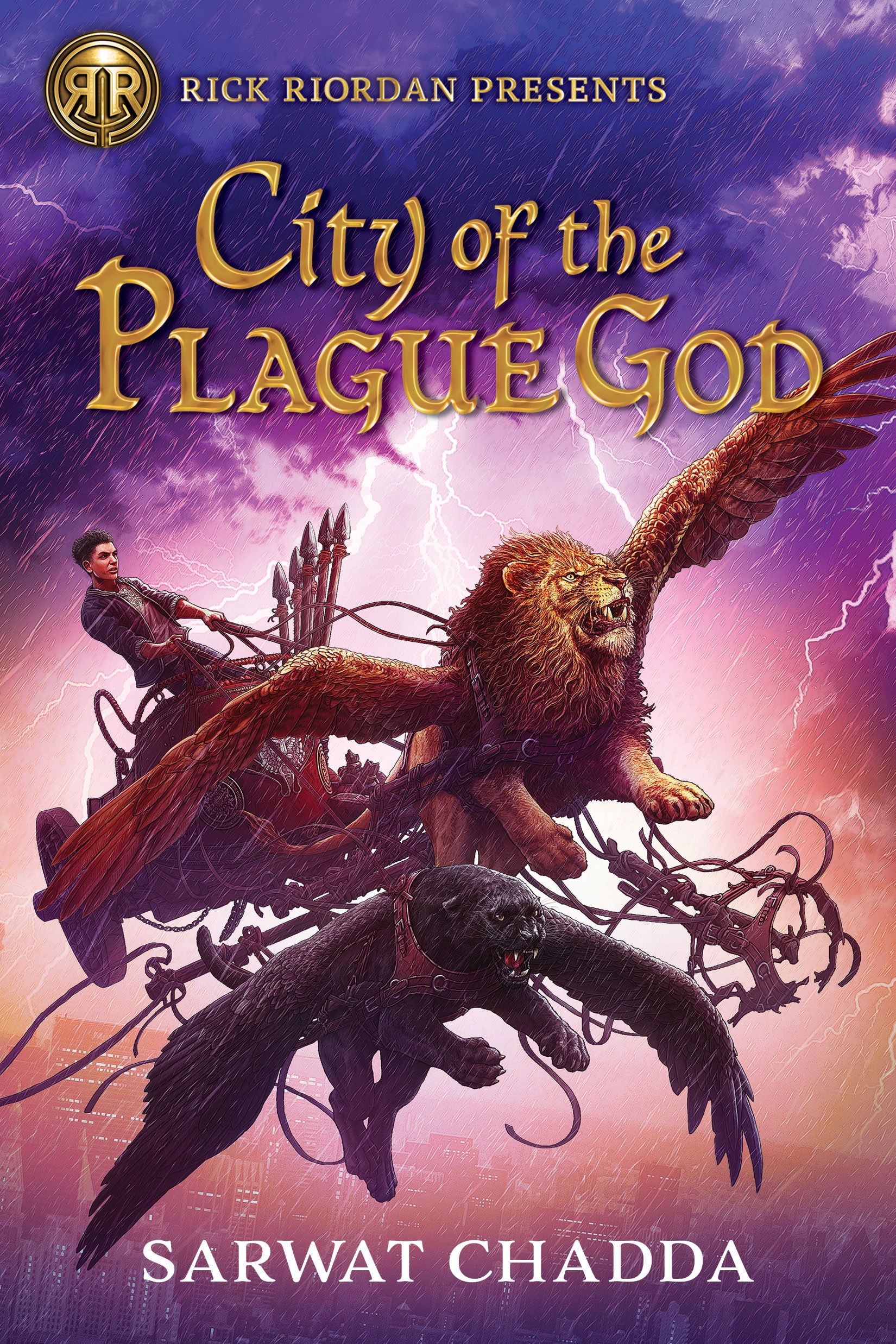 Best-selling author Rick Riordan presents City of the Plague God, an adventure based on ancient Mesopotamian mythology written by Sarwat Chadda, author of the Ash Mistry series. Characters from the Epic of Gilgamesh populate this high-stakes contemporary adventure in which all of Manhattan is threatened by the ancient god of plagues.
Thirteen-year-old Sik wants a simple life going to school and helping at his parents' deli in the evenings. But all that is blown to smithereens when Nergal comes looking for him, thinking that Sik holds the secret to eternal life.Turns out Sik is immortal but doesn't know it, and that's about to get him and the entire city into deep, deep trouble.
Sik's not in this alone. He's got Belet, the adopted daughter of Ishtar, the goddess of love and war, on his side, and a former hero named Gilgamesh, who has taken up gardening in Central Park. Now all they have to do is retrieve the Flower of Immortality to save Manhattan from being wiped out by disease. To succeed, they'll have to conquer sly demons, treacherous gods, and their own darkest nightmares. (publisher website synopsis)
How Live Book Club Classes Work
Participation in the live book club includes access to a set of resources and activities as well as interactive components.
Participants receive
A suggested reading schedule
PDF reading guides with comprehension questions
Vocabulary/reading activities
Discussion board posts in our online classroom
Writing/multimodal project prompts related to the reading
An invitation to a live discussion
A recording of the summary of the live discussion

An optional feedback add-on for the final paper/project

Rubrics for at-home feedback
Families are welcome to use as much or as little of the suggested resources and activities as they'd like to fit their interest and schedules.
Ages:
9-13
Content Note:
This story coincidentally includes a deity of plague and disease in New York City. It was written before the COVID pandemic and the published delayed release for a while to avoid appearing to exploit the COVID pandemic for attention. While the afflictions in the book do not closely resemble COVID, this topic may be difficult for some readers.
Also included: age-appropriate depictions of racism and other discrimination/harassment against an Iraqi-American and against Muslims, moderate fighting and violence (generally age appropriate in an action hero style), loss of sibling and grief.
Dates:
December 1-31, 2022
Live Meeting:
December 30, 2022
1:00 PM Eastern Time / 12:00 PM Central Time / 11:00 AM Mountain Time / 10:00 AM Pacific Time
Those who cannot attend the live session will receive a recorded summary.
Supplies:
A copy of the book City of the Plague God by Sarwat Chadda (ISBN: 9781368067324). Borrowed, used, and audio formats will work. See more edition information here: https://www.goodreads.com/work/editions/67680875-city-of-the-plague-god
Zoom account for live session
Microphone and camera for live session
PDF reader
Access to printer recommended