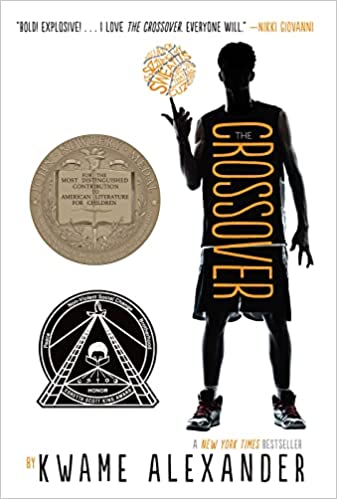 This award-winning book (Newbery Medal and Coretta Scott King Award) features 12-year-old twins Josh and Jordan who are amazing on the basketball court, but now they have to navigate the realities of getting older and their own family dynamics.
This novel in verse offers a hip-hop vibe and authentic emotion. Readers will get wrapped up in the drama of championship-level play as they read this metaphor for so much more than a game.
How Live Book Club Classes Work
Participation in the live book club includes access to a set of resources and activities as well as interactive components.
Participants receive
A suggested reading schedule
PDF reading guides with comprehension questions
Vocabulary/reading activities
Discussion board posts in our online classroom
Writing/multimodal project prompts related to the reading
An invitation to a live discussion
A recording of the summary of the live discussion

An optional feedback add-on for the final paper/project

Rubrics for at-home feedback
Families are welcome to use as much or as little of the suggested resources and activities as they'd like to fit their interest and schedules.
Ages:
9-13
Content Note:
There is some name calling (sports-related trash talking). Romantic scenes are limited to crushes/kissing. Discussion of adult health crises also comes up.
Dates:
October 1-31, 2022
Live Meeting:
Monday, October 31 from 1-2pm Eastern
Those who cannot attend the live session will receive a recorded summary.
Supplies:
A copy of the book The Crossover by Kwame Alexander(ISBN: 97818391304032). Borrowed, used, and audio formats will work.
Zoom account for live session
Microphone and camera for live session
PDF reader
Access to printer recommended