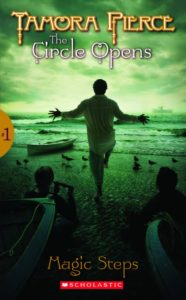 Join the Summer 2021 Tween Book Club!
A return to the world of Emelan, this is the first book in "The Circle Opens" series, taking place 4 years after "The Circle of Magic" quartet.
"Lady Sandrilene fa Toren knows all about unusual magic – she herself spins and weaves it like thread. But when she witnessed a boy dancing a spell, even she is confounded. To her dismay, Sandry learns that as the mage who discovered the power of the young dancer, she must be his teacher. Before lessons can begin, however, Sandry and her uncle, Duke Vedris, get news of a mysterious murderer stalking a clan of local merchants. The killer employs the strangest magic of all: the ability to reduce essence to nothingness. As the murders mount and the killer grows bolder, Sandry's teaching takes on a grave purpose. For it becomes clear to everyone that the killings can only be stopped by the combined workings of two people: the young teacher and her even younger student." (http://www.tamora-pierce.net/)
How Live Book Club Classes Work
Participation in the live book club includes access to a set of resources and activities as well as interactive components.
Participants receive
A suggested reading schedule
PDF reading guides with comprehension questions
Vocabulary/reading activities
Discussion board posts in our online classroom
Writing/multimodal project prompts related to the reading
An invitation to a live discussion
A recording of the summary of the live discussion

An optional feedback add-on for the final paper/project

Rubrics for at-home feedback
This particular book club series runs as a three-week session to accommodate all four books in the series.
Families are welcome to use as much or as little of the suggested resources and activities as they'd like to fit their interest and schedules.
Dates: June 1-June 25
Live Meeting: Friday, June 29 from 1-2pm Eastern/12-1pm Central/11am-12pm Mountain/10-11am Pacific
Those who cannot attend the live session will receive a recorded summary.