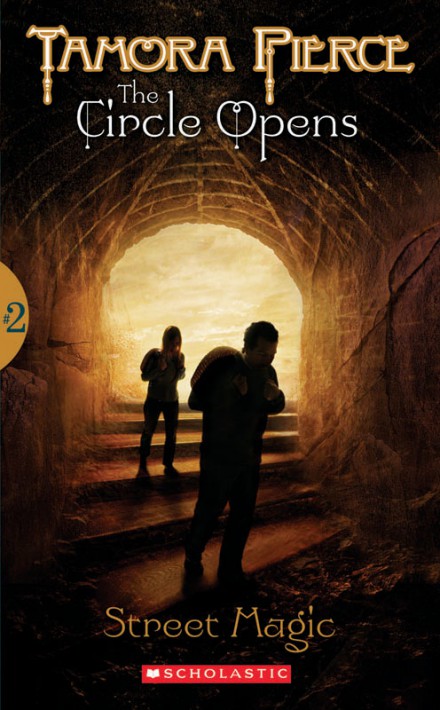 Join the Summer 2021 Tween Book Club!
A return to the world of Emelan, this is the second book in "The Circle Opens" series, taking place 4 years after "The Circle of Magic" quartet.
"It's been four years since Briar Moss began his training as a plant mage, but he still hasn't put his past behind him. Wandering through a Chammuri market, Briar comes across a street girl using powerful magic to polish stones for a merchant. He resolves to find her a teacher. But Briar understands the city's gangs as well as he understands Evvy, the young mage. When gang warfare breaks out in Chammur, Briar discovers that the fiercest gang is seeking a stone mage to lead them to hidden gems. Briar once believed gangs offered protection, but now he and his mage may offer the only protection Evvy can count on. As Briar is swept up in a bloody conflict, he must decide whether he's ready to make the final step away from his former life as a 'street rat.'" (http://www.tamora-pierce.net/)
How Live Book Club Classes Work
Participation in the live book club includes access to a set of resources and activities as well as interactive components.
Participants receive
A suggested reading schedule
PDF reading guides with comprehension questions
Vocabulary/reading activities
Discussion board posts in our online classroom
Writing/multimodal project prompts related to the reading
An invitation to a live discussion
A recording of the summary of the live discussion

An optional feedback add-on for the final paper/project

Rubrics for at-home feedback
This particular book club series runs as a three-week session to accommodate all four books in the series.
Families are welcome to use as much or as little of the suggested resources and activities as they'd like to fit their interest and schedules.
Dates: June 26 - July 16
Live Meeting: Friday, July 16, from 1-2pm Eastern / 12-1pm Central / 11am-12pm Mountain / 10-11am Pacific
Those who cannot attend the live session will receive a recorded summary.